An alien from space was sighted in Saburi, a suburb located on the outskirt of Abuja city, last Sunday by one Mr Mbuyazi. According to him, the alien jumped out from a nearby bush where it might have been hiding to confront him. At first he thought he was about to be rubbed or worse kidnapped, but the appearance of what confronted him made him considered worst fate, that he would be killed.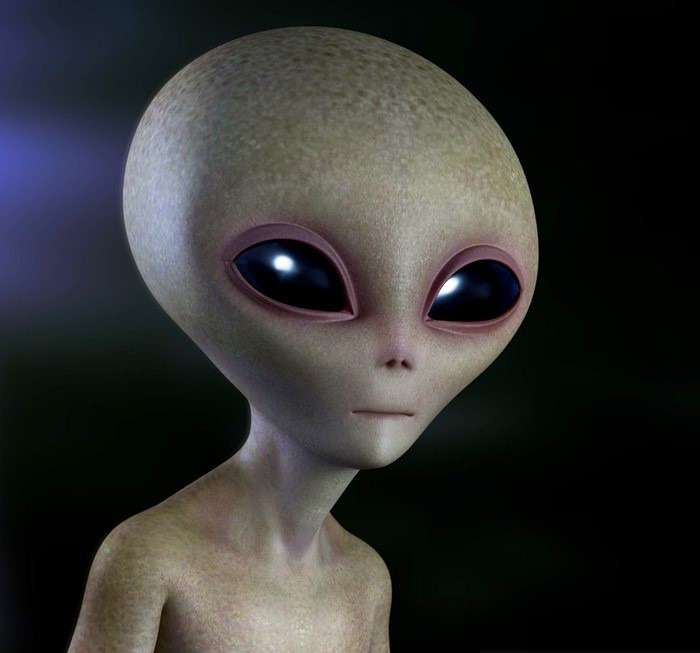 After tracking Mr Mbuyazi, he explained to me that what confronted him "E look exactly like the ones in American film", it had a head like a Praying-Mantis' except larger, the size of a football; it also had a pair of large glazed compound eyes like dragon-fly's, two tiny holes made up the nostrils and a small lipless mouth. It had the body of a ten years old and very skinny that made his head appear huge. It skin was pale white and had slender limps and lean long fingers.
"The thing talk like Naija person, not pidgin o, good English but like Naija person wey go school." That got me curious, if Mr Mbuyazi could describe what the alien sounded like, it meant they had communicated. Mr Mbuyazi affirmed this. The alien had appeared restless and agitated at first, and had revealed to Mr Mbuyazi that it was stranded and need help to get back home. It pointed to the bush he had leapt out from – I was shown the site – it was an overgrown of weeds and shrubs beside an electricity transformer. The alien said his spacecraft was hidden in the bushes, and had landed closer to the transformer to recharge its energy-drained shuttle.
Realizing that he would not be harmed by the alien, Mr Mbuyazi seized the opportunity to question the alien, a session I would endeavor to capture strictly as Mr Mbuyazi narrated to me.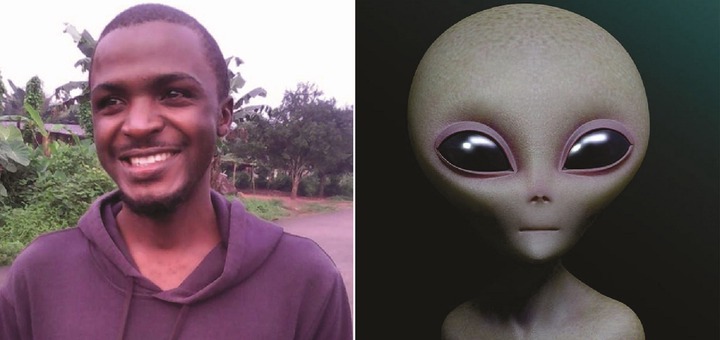 When asked what had brought him to earth, the alien revealed that It was on a fact finding mission in E-I60, the section of earth that Nigeria inhabits. The alien had been assigned to investigate the source of the tremendous noise coming from E-I60. An orbiting space radar they had installed from their planet had intercepted tons of noise from Nigeria. When asked what kind of noise, It said they were mostly unintelligible but their code breakers where able to decipher it: Over a million times "God save us from evil, danger, poverty, badluck, suffering, Buhari etc were mentioned; such request were mostly addressed to God, Jesus and Allah. If not asking to be saved, the voices were begging for good roads, water, security and good governance. Alarmed about the increasing technological success of humans from earth and the fear of an impending inter-planetary war, the alien was sent to come and gather intelligence to make sense of the intercepted "codes" from E-I60.
"It is call prayer. Talking to God." Mr Mbuyazi had explained to the alien. But the extra-terrestrial appeared confused by the explanation. It asked what was meant by "God". It was told that God created the world and everything in it, the alien nodded in agreement, and protested that its kind was not created by God. It also revealed that the voyages embarked by its kind across the universe had never led to an encounter with "God".
While Mr Mbuyazi insisted God lives in heaven somewhere in space, the alien unwilling to argue further resigned that God must be living beyond Icarus, the farthest star from earth, it takes light more than 9billion years to travel from it to earth, sound don't travel as fast as light. If God should live beyond Icarus, it would take more than 9 billion years for prayers from E-I60 to reach Him, by then those who had said those prayers would certainly be dead as well as many of their generations yet unborn.
The alien also revealed that it had strolled the streets of Abuja for eight days unnoticed even without disguised, and had during that time learnt how to speak English as a Nigerians and collected lots of intelligence to make sense of issues relating to Nigeria. It also discovered where the noises emanate from, from churches and mosques. In its opinion, what we Nigerians prayed for can be achieve without even causing nuisance in the universe. People need to exercise their civic duties by demanding their governments to be accountable. And this can be done if the energy exerted in prayers would be redirected for demanding elected and appointed leaders to be accountable, only this would guarantee good roads, abundant water, security and even electricity that can power the alien's space shuttle.
"You don't know Nigerian politicians." Mr Mbuyazi warned, "Dem too powerful." The alien replied philosophically that men are powerful as much as we made them, and real power must be made accountable else it will lead to abuse. Nigerians have made their leaders powerful, even more than God; and why people failed to demand accountability and provisions of their basic needs from these leaders and instead referred to God, mystified the alien even with its extra-ordinary IQ.
When asked how come no one had seen it during the eight days strolling the street of Abuja. Because everyone stared at their phones instead of watching what was happening around them. That too is another problem with Nigerians, the ignore reality and bask at the illusions of gadgetry hypnosis. They will achieve more in making government accountable by agitating and demanding in the real world what they expect from their leaders than they prayed to God. If that is not addressed, Nigeria's problems are far from ending, and regrettable the alien would be unable to fly back home because it spacecraft would never be charged.
By the time Mr Mbuyazi took me to the site where the spaceship was said to be hidden, it was gone. And there had been no electricity since then to recharge the spaceship, how could the spaceship be missing. Maybe there was never a spaceship in the first place, maybe the whole claim about sighting an alien was a lie, but I have no doubt that the alien's message was real!
I will keep you posted, but please feel free to comment if you have sighted an alien in your neighborhood